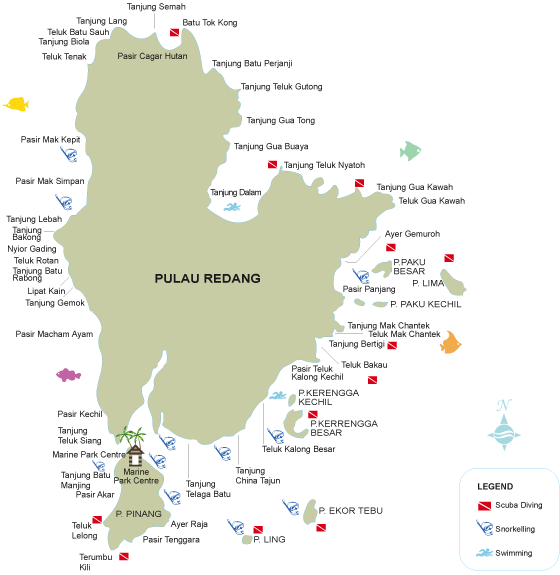 Redang Island or known locally as Pulau Redang or Redang is one of the largest islands off the east coast and located in Terengganu, famous for its crystal clear waters, white sandy beaches and marine fauna with numerous reefs found on Pulau Pinang. It is one of 9 islands, whcih form a marine park offering snorkelling and diving opportunities for tourists.
Accessible from Merang or Kuala Terengganu on boats operated by the resort and Redang Airport with services operatd by Berjaya Air from Singapore and Sultan Abdul Aziz Shah Airport, Kuala Lumpur.
The Redang archipelago comprieses Pulau Redang being the biggest island in the Marine Park, Pulau Lima, Pulau Paku Besar, Pulau Paku Kecil, Pulau Kerengga Kecil, Pulau Kerengga Besar, Pulau Ekor Tebu, Pulau Ling and Pulau Pinang. Pulau Redangis about 7km long and 6km wide. The highest peak is Bukit Besar at 359m above sea level.
Accommodation and packages:
Coral Redang Island Resort
Redang Holiday Beach Villa
Redang Mutiara Beach Resort
Redang Paradise Resort
Redang Pelangi Resort